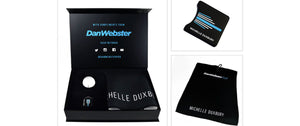 Many clubs now specialise in club fitting.
Crested accessories are now regularly being presented as an extension of the fitting experience.
A personalised LUMI Towel hanging on a golf bag or personalised MISSION Marker placed on the green encourages the recipient to discuss and endorse a recent Fitting Experience.
FITTING GIFTS
Personalised IBOX Gift Boxes
Personalised LUMI Towels
Personalised MISSION
THERE ARE MANY REASONS TO EMPLOY CRESTED ITEMS WITHIN YOUR FITTING EXPERIENCE. WE'RE WORKING WITH PRO'S THROUGHOUT THE UK & EUROPE, HELPING THEM TO PROFITABLY ENHANCE THEIR FITTING EXPERIENCE
CUSTOMER RETENTION
A small token of appreciation post fitting, can help build customer goodwill and generate future repeat business.
CUSTOMER ACQUISITION
Crested golf accessory gifts create lasting and positive impressions of your Fitting Experience with 'Beacon Items' serving to highlight your brand to potential new customers.
EXTENDING THE EXPERIENCE
We design gifts that can be used to encourage customers to apply the good advice offered in the Fitting Studio. For instance the recommended ball can form part of a presentation pack alongside a towel, tool or metalwork, creating an ideal 'take-home' gift.
PROMOTING GOLF ETIQUETTE
To reinforce advice on game improvement, why not use a gift such as a divot tool or ball marker as an opportunity to underpin your credentials as an ambassador for the game and encourage good course etiquette?
ON-COURSE ADVICE
Using Your Own Brand's flexible printing techniques, you can adapt a gift to act as an aide-memoir for advice given during the Fitting Experience – handy to consult during play.
GAME IMPROVEMENT
Matching your gift to support the guidance offered during the Fitting Experience can reinforce your status as a source of golfing knowledge and expertise.