TP5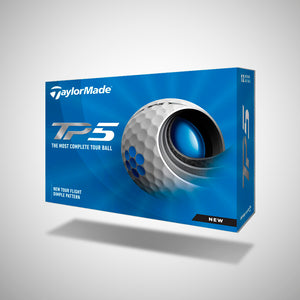 Login / Register to see prices
Item Specifics
SKU: TM101
Branding Method: Pad Print
Standard Logo Size: 26mm
Production Time: 14 Days
Minimum Order Quantity: 12 dozen
Set-up Cost: Free
Colour Options: White
Quantity Per Box: 36 dozen
5 LAYERS. ZERO COMPROMISES
TP5 features a Tri-Fast Core and Dual-Spin Cover that combine for a 5-layer golf ball construction that is specifically engineered to perform with every club in your bag.
TRI-FAST CORE
The unique 3-layer core system in TP5 and TP5x features progressive compression, enabling maximum energy transfer and generating massive speed on full shots.
DUAL-SPIN COVER
The contrast of an ultra-soft cast urethane cover and a semi-rigid inner-cover creates maximum interaction between the cover and club grooves, resulting in exceptional spin performance with full wedge shots and pinpoint control from around the green.
Talk To Us
To ask us any questions or for more information about the TP5, please get in touch, or if we are online just have a chat.